About Diabetic Meal Plan and Eating

        1   |  5                    NEXT >
In the following paragraphs, you will have a sample on how to organize your diabetic meal plan.
You will get to know how to implement all food types in your daily menu plan.
NORMAL or DANGEROUS &nbsp  Type Your Blood sugar Level: &nbsp  mg/dl
To be practical, diabetic foods include carbohydrates and other starchy foods, which supply your body the energy it needs. Moreover, they are a good source of vitamin B complex, minerals, as well as fiber. Fibers help your bowel movements giving a hand in controlling better your blood sugar levels.




For a balanced diabetic meal plan, you need 6-11 servings of starches/carbohydrates each day with 1 serving that equals:




BMI Converter

Enter your weight (in kilograms) and height (in centimeters):
Opening breakfast: Dry cereals (3/4 cup) + Bread (l slice) = 2 servings

To learn how to organize your breakfast, get some more ideas with these diabetic breakfast recipes.
| | |
| --- | --- |
| | To get a good fuel during Lunch, you may have: Cooked rice (1/3 cup) (although I did not cook them) + Cooked plantains (1/2 cup) = 2 servings in total |
To conclude, your Dinner options might be: Pasta (1/2 cup) + Bread stick (just 1 only) = 2 servings

As Snack options, you may choose 1 serving of crackers (six)

Or you can prepare you own snacks for diabetics.

As you see from the above, the total carbs or starches servings per day include 7.

| | |
| --- | --- |
| | Have your diabetic fuel choice nicely! |
Dairy Foods:
Dairy foods include: milk, yogurt, cheese etc. They supply your body with calcium, proteins, energy, vitamins and minerals it mostly needs. Diabetics are recommended to have up to three portions of dairies daily.
A woman with diabetes, a pregnant or breastfeeding woman must have more (up to five servings) of dairies per day because they need more.

A portion of dairies may include:

Plain yogurt (1 cup keeping in mind to stay away from "fruit in the bottom" yogurts as they contain sugar)

Milk (one cup either low fat or skimmed). The one I have showed is fresh goat's milk I mostly prefer.


Cheese (one slice or one oz)



Meat and Nuts:
In this category are included turkey, chicken, eggs, soy (and its products), nuts and fish. They are good sources of proteins that your muscles and other tissues need. In addition, they are good sources of vitamins and minerals too.

It it recommended to have up to three portions daily with one portion equaling:

Cooked fish (two or three oz)

Cooked chicken (up to three oz)

Tofu or soy products (up to four oz)

Non more than one egg; in case you have cholesterol or fat problems, then you must take one egg once three days (up to 3 times per week).

Peanut butter (up to two tablespoons)



Fruits:
Fruits are very important in your diabetic meal plan because they are sweet in taste and healthy in content. Fruits provide you with energy, fiber, vitamins and minerals. You can eat fruits raw, or as juice with no sugar added, always try to buy smaller pieces of fruit.
Up to four fruit portions are encouraged to have daily, up to two portions per meal with one portion including:

Raw fruits : pear, apple, banana in small size. Have half of fruit if it is large in size.

Fruit juices: apple, grapefruit or orange (½ cup)

Mixed fruits salad (½ cup)

Dried fruits (¼ cup including raisins or dates).
Vegetables:
An excellent source of fiber, vitamins and minerals you may find in vegetables too. Everybody can benefit of veggies, and with a cost of small amount of calories.
Although all the veggies are good, those bright-colored are the best of the best, having up to five portions per day. Therefore, your veggie menu includes:
Cooked veggies (½ cup)

Raw vegetables (1 cup in form of mixed veggies: carrot sticks, salad and cucumbers)

Veggie juice (1/2 cup, the fresh squeezed carrot and tomato and celery juice are most encouraged; however to add more taste you can have apple and carrot with celery or cilantro.

Remember to include up to 3 veggie portions in your diabetic meal plan.



Fats and Candies:
In this category are included spreads, margarine, butter, oils (of olive or other vegetable source). Keep in mind to select those low-fat fats containing little amount of trans-fat or saturated fats (mainly found in animal sources).
With regards to candies (sweets), as they contain large amount of sugar (in comparison in what you need to include in your diabetic eating), are not encouraged to eat randonmly.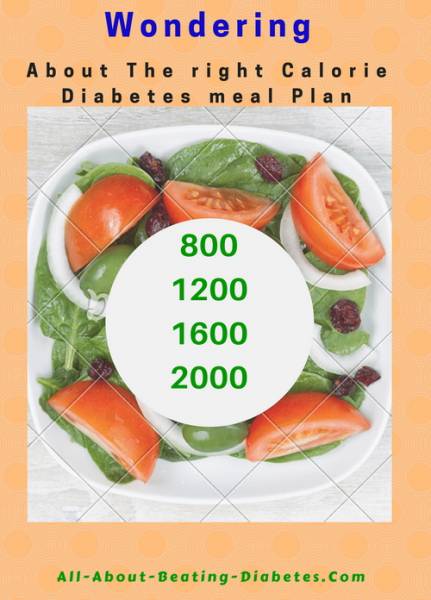 They provide you very little with vitamins and minerals, whilst they are high in calories and fats (including cookies, candies, pies, cakes etc).
Your daily fat and candies intake must not exceed:
Oil (one teaspoon)
Salad dressing (one tablespoon)
Mayonnaise (two teaspoons)
Bacon (just one strip)
Cookies (just one)
Plain doughnut (just one)
Syrup (only one tablespoon)
Chips (up to fifteen)
If you are diabetic and at the same time want to loose weight, check this 800 calorie diabetic diet plan what can do for you. Don't forget to be close to your doctor for further advices.
As you may see, it is not difficult to organize your daily diabetic meal plan according to diabetic eating rules. Just have a strong willing to learn the things and foods suitable to you. Good luck!
Last reviewed: 02/28/2019
References:
Beat Diabetes
› Diabetes Meal Plan
This is the place where you can ask a question about any aspect of Diabetic Meal Plan.
It's free and it's easy to do. Just fill in the form below.
What Other Visitors Have Asked
Click below to see contributions from other visitors to this page...

---