Printable diabetic blood sugar chart

Hi everyone.
I understand that every diabetic needs to monitor his/her blood sugar level in order to keep diabetes under control.

Therefore, every diabetic needs to have a log sheet where to record the blood sugar results.
Furthermore, you will need a diabetic blood sugar chart in order to compare your results with the normal ranges (low and high ones).
Here, you can get a copy of a printable copy, where you can record all the results of your blood sugar tests and have the comparison with normal ranges.
Now, I am giving a guideline on how you can use this chart on your own at home or anywhere you go.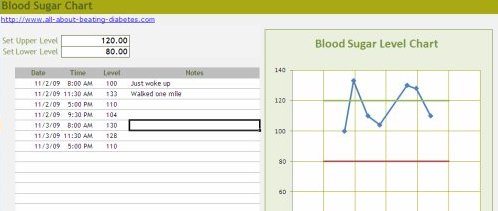 Get Printable diabetic blood sugar chart (PDF File)
Get Printable diabetic blood sugar chart (excel sheet)
Get blood sugar chart with excel chart
As you may see, it consists of two parts:
- The left part is designed to record your blood glucose results. You can record the time and date where you had your sugar measured. Furthermore, you can make your own notes, when did you measure, for e.g. just woke up or when you were feeling dizziness or shaking, etc.
- In the right part, all your records will appear automatically in the chart; therefore, it would be easier for you to see where your results appear in comparison to the normal ranges.
Now, what should your normal ranges be?
As I have always recommended you (and it is also the recommendation of ADA for diabetes management), every diabetic should have his/her own normal ranges.
In other words, if in general, the normal ranges are between 70 and 120 mg/dl; this does not mean that is your normal range.

If you discuss this with your doctor, your normal ranges could be higher than of the general, which is also called acceptable sugar levels .
Therefore, you should write your acceptable levels and compare each record with them. In case, your records will be lower than your acceptable levels, your doctor will set other normal ranges for you and so on.
It might seem difficult to manage your records, but it is not. You will need time to get used and everything will be as easier as nothing else will.
Take-Home Tips
Printable diabetes logs will help you understand how do your blood sugar levels fluctuate during the day, so you can judge on how well you are controlling diabetes. 
You can write down the findings of your blood sugar levels each time you take the test. 
You can follow the instructions for further details. 

You can print your sugar chart and present it to your doctor to undertake the most appropriate actions for the best diabetes management.

You can ask our specialists to give a more personalized assistance especially for you. Start now!
To keep blood glucose within normal range, you need to run various changes in your diet and lifestyle regimen.
If this is still not enough to normalize your glucose levels, click here to find out a natural alternative.
References
Last reviewed 03/21/2019
Beat Diabetes

›
Diabetes blood sugar level
› Printable diabetic blood sugar chart
---