Avandia lawsuit
Every patient who has suffered from the side effects of avandia must build an avandia lawsuit. This is a patient's right, if he/she knows that this drugs harmed his health more than it helped him.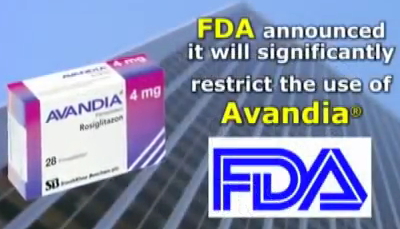 NORMAL or DANGEROUS &nbsp  Type Your Blood sugar Level: &nbsp  mg/dl
The numerous side effects of avandia are known nowadays because of the many lawsuits built by the people with diabetes type 2, undergoing a therapy with avandia.
The side effects are many, including: tachycardia (increased heart rate), swelling (in the hands, legs, face), sweating in many places, headache, blurred vision or other problems related to vision, back and neck pain, vomiting and etc.
These are the minor problems that are a result from a therapy with avandia.
The bigger problems are the reason for an avandia lawsuit. These problems are immediate threat to the patient's life and that's why he has the right to claim some money as a compensation for putting his life in danger.
This is how patients want the company, which produces the medicine to make a deeper research on the reasons, which affected their health.
Also, some of the greater side effects lead to life-changing events in patient's life. These side effects lower the quality of patient's life and eventually lead to his inevitable death.
The side effects that affect patient's life are:
1. Hearth attack
2. Stroke
3. Congestive heart failure
4. Severe Allergic reaction
5. Liver toxicity
People that have already lost their family members because of treatment with avandia, could build avandia lawsuit, too. They have the right to get compensation.
When people decide that they will take their case in the court of law, they must see their lawyer to understand some things and clear some things. The patients who are going to sue the company, which produces the medicine, must do the following things:
1. Consult with their lawyer to find whether their case could get in the court of law
2. The lawyer must know whether the patient has been on a therapy involving avandia
a. must know for how long the patient has been taking this drug
b. must ask whether the patient see a direct connection between the intake of the drug and his symptoms
c. must know whether the patient has read all the warning signs put on the envelope of the drug
d. must know what compensation does the patient want
3. After understanding the facts, the patient must be consulted whether he/she could win in the court of law.
These side effects are life-changing. That's why you should not doubt to seek your rights because some company has not completed its clinical trial perfectly. You must punish them for their mistake.
---



Beat Diabetes

›

Diabetes medication

› Avandia lawsuit