Dr-Albana-Greca-Sejdini

Hello everyone.
My name is Dr Albana Greca Sejdini. I'm a Medical Doctor (MD) and the founder of this website.
I'm not good of writing excellent articles about me, with BIG words and everything. But I'm good of being a medical doctor because I want to help those in need and I know that I CAN. 
Academic and Affiliations Experience
Graduated on July 2006, started the medical career as a General Physician already 12 years of experience on Family Medicine. Still running the same experience as Member of Order of Physicians of Albania, and Albanian Association of Family Medicine. 
After finishing the post-graduate studies of Masters of Medical Science (MMedSc), and after a great experience of working and studying in Malaysia, back to family doctor experience. However, still being part of Member of Malaysian Society of Parasitology and Tropical Medicine. 
Publications:
- Sejdini A, Mahmud R, Lim YA, et al. Intestinal parasitic infections among children in central Albania. Ann Trop Med Parasitol. 2011;105(3):241-50. link
Twelve years ago we started to build up this website and continue to assist you further online. Apart this website, I've been active with online counselling throughout many forums:
Information is the basic of our life. If we don't know, we cannot change for the better and cannot avoid the worst. Both of my parents are diagnosed with type 2 diabetes. Here's some correction. Unfortunately, they both are not Here with Us anymore. 
My DAD was diagnosed with colon cancer around 10 years of being treated with diabetes. And there are 10 years I cannot hear his voice on phone call. 
My MOM, the excellent Lab Doctor (she was excellent especially for me), lived around 20 years with diabetes and since her 30s being treated for hypertension. Her heart could not resist to any other stress, so SHE surrendered to death. 
All their life, they slept their mind over and just said: "Oh, I'm going to eat this, and then I'll take Metformin, and blood sugar is back to normal again". This was the biggest mistake. But, I do not blame them. I couldn't dare, they are my parents. 
But I want to change the vision of those diabetics getting treated : Do not sleep over! Listen to your body and Serve it the right way! Let's why I decided to create this website
Yes, I do not work alone.  You will have a full review of their professional background as following.
Although we starve to serve you the most professional and approachable way, we still remind you that : "The medical response to your queries is not intended to substitute your doctor's advice. We strive to give another approach to your query, so it would be easier and faster for you to find solutions with your caring doctor. "
"If you have any queries or suggestions, please get in touch with the Diabetes explained team using the form below."
There is a link to the contact us form in the footer of every page of the site labelled "Contact Us"

---
Reviews For Dr. Albana Sejdini
 | Tue, 16 Oct 2018Very impressive. New look on my situation 
Hh18hh | Thu, 1 Feb 2018Excellent 
Normanebanks | Wed, 1 Nov 2017I'm sure that the good Dr. gleaned all that was possible from the info that was received. I am much relieved after the advice and will follow what seems to apply to my situation. Many thanks. 
Senri | Wed, 1 Nov 2017Very patient, knowledgable, and sympathetic. 
Anonymous | Fri, 13 Oct 2017super 
E2owen | Mon, 31 Jul 2017Excellent information, very helpful! 
E2owen | Mon, 31 Jul 2017Excellent 
Croftmanner | Mon, 24 Jul 2017Excellent 
Kddinosaur | Thu, 29 Jun 2017Very Good 
Christisp | Mon, 3 Apr 2017Thank you! 
T.sacramone | Wed, 29 Mar 2017This was my first time here and found this experience, very helpful. Thank you responding so quickly, with helpful info on my condition. I may have and idea. Thank you again Tom 
Ginasmates1 | Sat, 25 Mar 2017Good thank you 
Lksypka | Fri, 24 Mar 2017I found Dr. Sejdini to be most helpful and honest. I appreciated the quick turn around for answers and the ability of her to show empathy for a patient she has never met!!!!! I would highly recommend for consultations. 
Chefpamhoover | Thu, 23 Mar 2017Very Good 
Valeracs | Thu, 23 Mar 2017Very Good 
Jenniferkarataylor | Wed, 22 Mar 2017Excellent 
Dmitry | Wed, 22 Mar 2017Awesome doctor Albana, right on target, answers your questions on time, she is the first doctor who pinpointed what i may have who told me what i need to do it. Thanks. D 
Jhgrunholzer | Fri, 17 Mar 2017Would have liked to have had more feed back such as is this the best time (or when is the best time) to have the surgery and should I expect more surgeries since He will probably grow more over the next few years. 
Jndrewweaver | Wed, 15 Mar 2017Dr Sejdini was most helpful, timely and sympathetic. 
Poetsylvie | Tue, 14 Mar 2017Great! Only thing is I'm trying to get copies of the results of the echo,but I'm glad I subscribed to this service. You have been quite helpful.
More Reviews for Dr Albana Greca Sejdini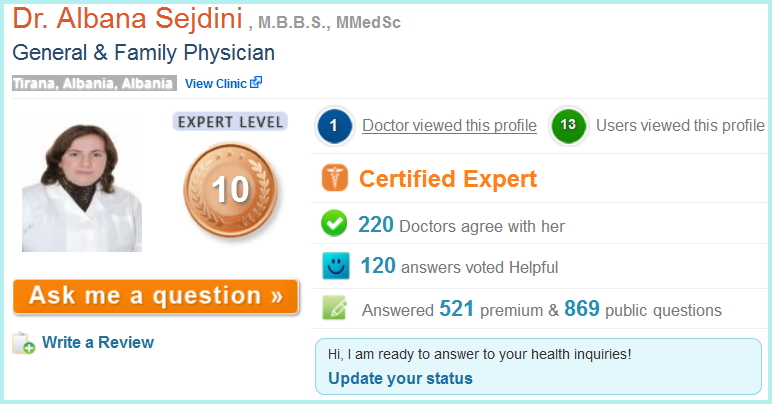 Ask a doctor  free Question
Ask the Doctor Now
Get the answer in 3 simple steps